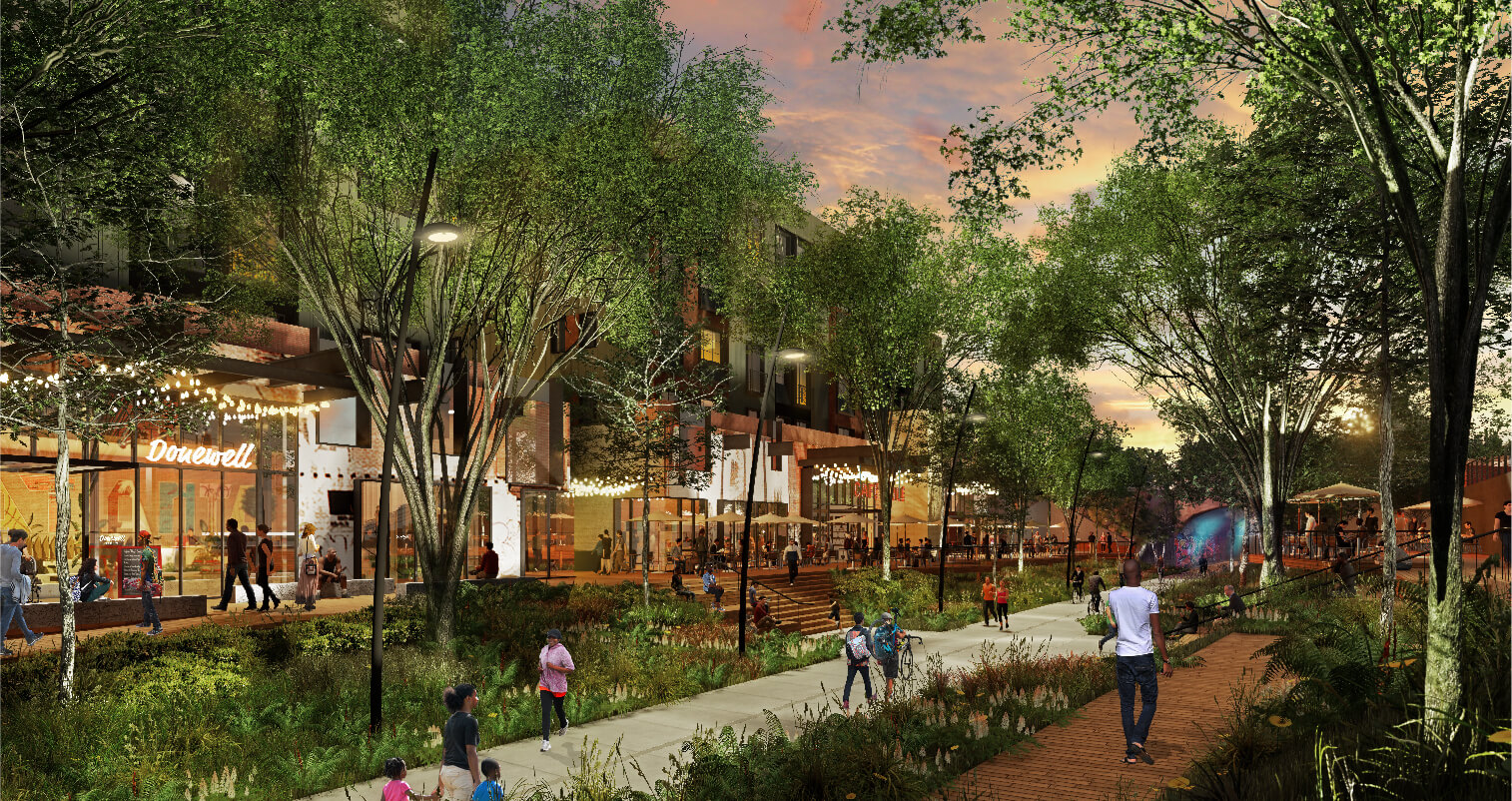 Lincoln Property Company today announced the start of vertical construction on Echo Street West, an interconnected mixed-use village rising in Atlanta's English Avenue neighborhood. The 19-acre project is located in an Opportunity Zone and will bring jobs, housing, retail and community amenities to the area. The first phase will comprise 300,000 square feet of creative office space, 50,000 square feet of retail and restaurant space, 292 multifamily units and 3.4 acres of outdoor entertainment and greenspace.
The announcement comes on the heels of unveiling several new community amenities at Echo Street West, including the now-open event venue Guardian Works, the soon-to-open artist colony Guardian Studios and CoLab, an innovative neighborhood resource led by community organizer and Director of Neighborhood Engagement at Westside Future Fund, Joan Vernon.
The development team celebrated the groundbreaking today with a ceremony at the new Guardian Works event venue. Tony Bartlett, Executive Vice President at Lincoln Property Company, David Coelho, Chief Investment Officer at Bridge Investment Group, Michael Howell, Senior Vice President at Lincoln Property Company, Joan Vernon, and Lauren Jackson Harris, Co-Founder of Black Women in Visual Arts, spoke at the event.
"Our team is thrilled to put shovels in the ground as we mark an important milestone for Echo Street West," said Bartlett. "Our vision for creating a walkable, interconnected village that harnesses the growing pool of tech talent and engages the surrounding communities is coming to life. Already there are many fingerprints on this project, and we will continue to work hard to involve our neighbors and create unique amenities and gathering spaces that serve the community and appeal to our future tenants." 
Colab
A key focus of today's groundbreaking was the debut of CoLab, located in Echo Street West's onsite marketing center and led by Joan Vernon. CoLab will serve as a community-led, community-focused resource for the personal and professional advancement of Westside residents. CoLab will host both physical and virtual events, with the virtual series featuring speakers from groups like Invest Atlanta and Georgia Tech. As one of the first virtual sessions, Invest Atlanta will focus on how to access down payment assistance to support nearby home buying programs, while Georgia Tech will host a series of sessions on opportunities for entrepreneurs, minority procurement and short-term certificate programs for high-demand careers.
"As a legacy resident of the English Avenue community, I'm excited to see a CoLab collaborative space at the Echo Street West development," said Vernon. "This is the first collaboration of its kind. Echo Street West is a transformational development. Understanding developments should bring positive transformation to the impacted communities, our focus is on the nearby residents. I am thankful the Lincoln Property Company offered to utilize their marketing center as a way to connect and support Westside Neighbors through a CoLab collaboration. It's amazing to see this space take shape as a meaningful resource for the community."
As one of her first initiatives, Vernon organized a virtual game show for local students to learn about Lincoln Property Company's development process, including market analysis, land acquisition, financing and site planning. The goal of the game show was to get the new generation engaged in development and learn more about what's happening at Echo Street West so that they feel a sense of ownership and pride in the project. Seven of the webinar's most engaged students were invited to each paint a shovel at Lindsay Street Park in English Avenue. The students, their families and the seven painted shovels all participated in today's groundbreaking event and received a private tour of the development.
In her speech at the event, Vernon spoke directly to the kids and said, "You belong here… This is a place for you."
Echo Street West Partnership
CoLab is the first initiative to come from the Echo Street West Partnership, a grassroots, donor-advised fund that funnels money, time, talent and resources to organizations that are doing good work in Atlanta's Westside. The Partnership is focused on supporting organizations that are promoting youth development, health and wellness, job training and community needs.
"The vision for community outreach extends beyond the buildings we are constructing and has evolved into a new passion to break the stereotype that new development has to be in conflict with the existing neighborhood," said Bartlett. "We established the Echo Street West Partnership in the spirit of being a good neighbor and we want to support the people who are already here in the community doing important work. Whether that means making a donation, building a deck, designing a website or providing meeting space at our project, we will be proactive in finding specific needs in our neighborhood and fulfilling them. We believe that great developments can work together with the community – in the same way that residents in a neighborhood support each other – to benefit everyone's quality of life."
Guardian Studios and Guardian Works
Lincoln Property Company is also preparing to open Guardian Studios to the community. The unique artist colony will take shape in an early 1900s-era warehouse at Echo Street West and foster collaboration among local creatives. The first phase of Guardian Studios will feature 14 rentable art studios ranging in size from 200 to 500 square feet, a 3,000-square-foot open gallery space and outdoor wall murals. The second phase will add another 26 studios bringing the total creative community to over 40 artists. Local minority and women-led arts organization, Black Women in Visual Arts (BWVA), has been tapped to curate Guardian Studios and introduce the incredible arts amenity to Atlanta's Westside.
"We want to make this space not only for professional artists, but a place where arts enthusiasts of all ages, backgrounds, ethnicities and genders can connect, cultivate and thrive," said Daricia Mia DeMarr, co-founder of BWVA. "As the granddaughter of residents from the English Avenue community, I am especially looking forward to immersing ourselves in the hyperlocal community, getting to know their needs and finding ways to inspire them through art."
Guardian Studios at Echo Street West is located adjacent to the newly opened Guardian Works event venue, which is also located in an early 1900s-era brick warehouse. Guardian Works hosted today's groundbreaking, and has been rented for weddings, bar mitzvahs and corporate events. It will also soon begin hosting festivals and other exciting events for the community. The names, Guardian Works and Guardian Studios, are a nod to the buildings' history as the former Guardian Company's complex, and the adaptive reuse design is maintaining the industrial architecture. The buildings are separated by a nearly 5,000-square-foot covered, open-air patio and an additional 23,000-square-foot green space.
Phase One Construction: Office, Retail and Residential 
Last Fall, Lincoln Property Company launched a $17 million infrastructure project that included soils, grading, roads, sewer and utilities and set the stage for vertical construction on the office, retail and residential components of Echo Street West. The new construction will be delivered starting in 2022, while the adaptive reuse buildings are opening now through the end of the year. It's worth noting the walkable design of the project, with parking hidden from view.
The office experience is designed to be uniquely sensitive to a post-Covid work environment. It will meet WELL certification standards and offer ample outdoor space in the form of exterior staircases and outdoor covered walkways that eliminate the need to congregate in enclosed lobbies and internal corridors. Over 29,000 square feet of outdoor balconies will cover the northern exposure of the building creating outdoor conferencing areas, social gathering spots and recreational opportunities.
The office building will also be one of Atlanta's first exterior core buildings, which will provide for core-free floor plates that provide dramatic glass lines from front to back on the floor. In addition to a fully appointed 4,000-square-foot tenant amenity lounge with flexible meeting space, the building will be one of only a handful to provide timber ceilings on every floor. Additionally, the Westside Connector Trail runs through the property and provides direct connectivity to Atlanta's educational and research centers as well as with the 280-acre Westside Park and the activity nodes in Downtown Atlanta and Midtown. With investments from Apple, Amazon and Microsoft planned for Atlanta's Westside, and with graduates coming from Georgia Tech, Georgia State and the Atlanta University Center, the design is tailored for companies looking to join the growing hub of tech talent in the area.
The residential component at Echo Street West will be highly amenitized with the latest technology. Twenty percent of the multifamily units will be affordable at 80% AMI. As a part of the ground level of the residential building, there will be 23,000 square feet of retail space, the majority of which will have frontage on the Westside Connector Trail.
Echo Street West's retail space offers ample room for outdoor restaurant dining and vibrant storefronts that engage the Atlanta BeltLine's Westside Connector Trail, which runs directly through the development. Separate from the new retail construction, Echo Street West will soon open an outdoor bar and dining experience with rotating culinary concepts (more details on this space will be shared in the coming weeks).
The Echo Street West team includes Lincoln Property Company, Bridge Investment Group, Bank OZK, Kimley-Horn, Merit Construction, ASD|SKY, DPR Construction, RIOS, Juneau Construction Company, Dwell Design Studio, Black Women in Visual Arts, Novare Events, Revel, Southern Culinary & Creative and SRS Real Estate Partners.